World Aircraft Fleet to Grow 20% Over Next 5 Years
Global Fleet Forecast - 2016 to 2026
The global commercial air transport fleet currently stands at 24,540 aircraft and is expected to grow 3.7% annually from 2016-2021 to 29,421 aircraft. Growth is expected to slow to 3.2% per year during the second five year period, bring the total number of in service aircraft up to 34,437 by 2026.

Over the entire ten-year forecast, Oliver Wyman predicts the global fleet will grow on average by 3.4% annually. The passenger fleet is expected to grow at 3.7% annually and the cargo fleet by 0.6% annually.

The above analysis is from the betterinsight™ 2016-2026 Global Fleet & MRO Market Forecast Commentary Go To betterinsight.
2016-2026 Global Fleet & MRO Market Forecast Commentary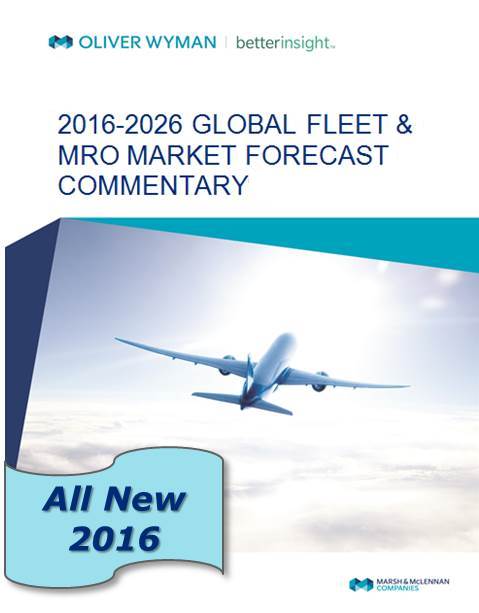 Announcing the all new betterinsight™ 2016-2026 Global Fleet & MRO Market Forecast Commentary. Detailed commentary and analysis of the 10 year global fleet and MRO market forecast and trends behind the forecast. This report details Oliver Wyman's 2016 assessment and 10-year outlook of the commercial airline transport fleet and the associated maintenance, repair, and overhaul.

The industry-leading betterinsight™ MRO data products have been recently updated and are now available exclusively through PlaneStats.com market intelligence service. With three different subscription levels and select reports available a la carte, betterinsight™ has been designed to fit just about anyone's budget or data needs.

Betterinsight™ data products provide critical information at the right depth to support an understanding of the current state, and likely future situations, among a broad spectrum of aviation industry products. Our industry leading modeling, coupled with our keen understanding of the levers that are important to this sector, provides outstanding data products which enable sound business decisions when it matters most.

Betterinsight reports include:
Fleet Forecasts
MRO Cost Forecasts
MRO Benchmark Data
MRO Contracts Data
MRO Market Share Data
Go To betterinsight by PlaneStats.com
Related Oliver Wyman Insights
Go to the Archives

PlaneStats.com by Oliver Wyman brings together reliable aviation data and a powerful collection of analytical tools that you can use to develop tangible insights.
PlaneStats.com
Oliver Wyman