Revenue Slowly Recovers
Airline Economic Analysis 2021 - 2022
Since 2000, US domestic airline passenger revenue had tracked closely to US GDP — until the pandemic hit and airline revenue plummeted. For several years before the pandemic, airline passenger revenue represented around 0.5% of GDP. At its lowest point, that contribution fell to 0.1%. By fourth quarter 2021, that percentage had climbed back to 0.4%, indicating airline passenger revenue was about $6 billion to $8 billion below historical levels per quarter. The 11 airlines in our study generated $122 billion in operating revenue during 2021. The combined revenue represented a 35% drop from 2019, but a 72% rebound over 2020.
The above analysis is an excerpt from the Airline Economic Analysis 2021 - 2022.
Airline Economic Analysis 2021 - 2022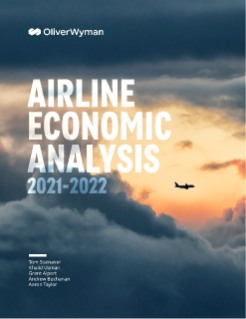 For the second year in a row, Oliver Wyman's Airline Economic Analysis is based on one of the most unique sets of operating circumstances in aviation history. The challenging environment has disrupted planning and operations, but most important, it has affected profitability.
Few probably suspected in March 2020 that two years after declaration of the COVID-19 pandemic, the aviation industry would still be feeling the effects. But indeed, much of China is either emerging from lockdowns or facing the prospect of one, and there are still outbreaks in various parts of the world. While recovery is within sight for aviation, COVID‑19 variants are keeping the industry and global economy on the alert.
Among the biggest disruptions related to the rebound from COVID‑19 have been labor shortages that are making it difficult for airlines to satisfy growing demand and broad inflation that is pushing up operational expenses, particularly for fuel. While aircraft are flying again and millions appear ready and willing to travel, operations have been plagued with delays and even disorder because of problems with staffing or the supply chain.
Meanwhile, there are new world crises with which to contend, including the 2022 Russian invasion of Ukraine and the accelerating manifestations of climate change.
The Airline Economic Analysis, which maintains a heavy focus on the United States, is our effort to provide the aviation industry with data and commentary that will help it cope with unfolding market challenges. We welcome your questions about our analysis and look forward to discussing it with you.



About the Report
This year's in-depth report covers a range of aviation industry-specific economic and performance data as well as global capacity during the pandemic. For our 2022 AEA, we expanded our report to be more global in nature, reflecting the worldwide impact of COVID-19 and demand recovery, and included forward looking commentary. The analysis outlines major macro-economic trends, the impact of the recent geo-political situation with the war in Ukraine, and carrier restart and recovery efforts in light of labor tightness and fuel cost escalation. It also covers the expansion of cargo revenues.

The report also includes analyses on:

Capacity changes and available seat miles
Regional domestic and international in service capacity
Schedule change impact on capacity
Revenue per available seat mile (RASM)
Cost per available seat mile (CASM)
Load factors
Operating profit
Global cargo capacity and demand
Go To Report

PlaneStats.com by Oliver Wyman brings together reliable aviation data and a powerful collection of analytical tools that you can use to develop tangible insights.
PlaneStats.com
Oliver Wyman